Description
Philadelphia Women in Digital January +1 Meetup
2019 Digital Trends
Agenda
700 - 7:30: Mix & Mingle 
7:30 - 8:30: Featured Guest Speaker: Sonya (Sofie) Trippett, Owner/ Publisher of Elite Investigative Journal, Forensic NewJournal and Saairah Entertainment News Magazine
8:30 - 9:00 Last Hour: Ask & Give Exchange & Networking
Sonya (Sofie) Trippett is the Owner/ Publisher of Elite Investigative Journal, Forensic NewJournal and Saairah Entertainment News Magazine. She is also the Creator/Host of TV Series Saairah Entertainment News which can be seen on Comcast channel 66 and Verizon channel 29 on Mondays at 7:30pm. 


She has a genuine love for technology and has worked with technology through out my life. When she started her first magazine, she had no knowledge of how to begin the journey. She decided to teach herself how to create, maintain and run the overall processes of a magazine. It was very tough but by the grace of God I learned, persevered and created successful publications.


She has her Bachelor's Degree in Information Technology and an MBA in Operations Management. I always encouraged others to do what they love and never let anyone tell you that your dreams are too far out of your reach. In anything that you do "Make It Happen"!


Logistics
Parking:
Street parking
Hamilton Garage is right across the street -  https://www.lazparking.com/local/venues/Hamilton-Garage-Philadelphia-PA
Also you can locate garage/lot parking using Parking Panda app:
https://www.parkingpanda.com/Search/?location=216+South+11th+Street%2c+Philadelphia%2c+PA%2c+USA&place=ChIJI_lCGibGxokRc2YjEnVR7nM#startTime=1900&endTime=2100 
HUGE Thanks to Our Sponsor!: Strangelove's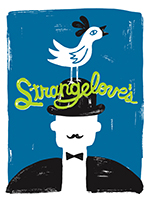 Who should attend?
Female professionals in digital + tech industries. Our members have a digital focus within the creative, marketing, advertising, or communications fields. From content strategists to designers, developers to social marketing pros and CMOs – you are all professionals in digital and all welcome at our events. Not a member yet? Join us today!

We welcome all female, female-identifying, and LGBTQ persons.

Please do not attend if you have a sales motivation. Soliciting our attendees and members for business or sales is strictly prohibited. If you do so, you will kindly be asked to leave OR you can officially sponsor us (a better option).

Men, we prefer you not attend our member meetups. Why? By nature, when faced with challenges, women respond by creating community. This is ours. If you would like to support us, there are so many amazing ways:




Would you like to sponsor?
If you are interested in sponsoring this event or others, woo hoo! Contact us at 
philly@womenin.digital or info@womenin.digital.
Date and Time
01/17/2019 7:00 PM - 01/17/2019 9:00 PM EST


Location
Strangelove's
216 South 11th Street
Philadelphia, PA 19107



Back to Job Fairs
Philadelphia Women In Digital
NOTE: JobsInTheUS promotes local job fairs in order to provide job seekers with extra avenues towards career opportunities. However, all career fairs are operated by other event organizations, and are not affiliated with JobsInTheUS and its sister sites. If you have questions about an upcoming job fair, you may follow the organizer's web address to learn more.